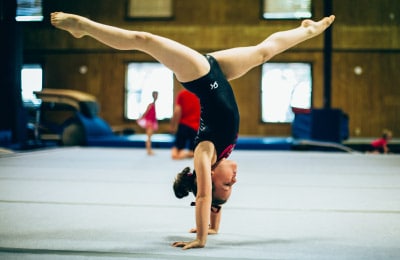 Our team of instructors at Lucas Gymnastics offers a one of a kind summer camp that every child will want to attend. Gymnasts from beginner, to trying to make a team will be thrilled to find themselves upside down more than right side up during this week-long camp.
Our summer camp runs for one week and is designed to teach everything from the very basics of gymnastics to the technical skills that will be needed by future gymnastics champions. Your child will love participating in events such as obstacle courses and races and will get the chance to learn new skills on floor, vault, beam, and bars every day!
Gymnastics Camp (Ages 5+)
Cost: $185 per week / per camper
| Dates | Times | Cost | Deposit | Theme |
| --- | --- | --- | --- | --- |
| June 13-16, 2022 | 10AM - 2:30 PM | $185 per camper | $30 per camper | Out of this World |
| July 11-14, 2022 | 10AM - 2:30 PM | $185 per camper | $30 per camper | Bring the Bling |
Our summer camp is restricted to children ages 5 and up.
Campers need to bring their own food and water.
Camper receive a 10% discount when they sign up for both weeks.
Deposits are non-refundable after May 1st, and all deposits are applied toward camp fees.