Tumbling and Back Handspring Gymnastics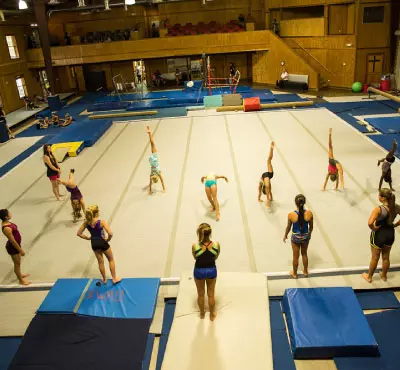 At Lucas Gymnastics, our tumbling and back handspring gymnastics classes are available for girls, regardless of what kind of background and experience they may already have in the field. We provide this exceptional and balanced class to all families in surrounding areas of Cleburne, TX. We offer two different classes to ensure your child is working at the right level. If your child needs more help, they may need to add a back handspring class or schedule a few private lessons. We want to be sure that each individual in our program is learning and meeting their own goals that they have set for themselves.
Often times, girls will take our classes to help them improve their dance skills. It's been said that tumbling and dance go hand-in-hand. Guaranteed to improve your child's flexibility, coordination, and muscle control, tumbling gymnastics is a year-round sport, so you will be able to sign your son or daughter up any season of the year.
Parents are always welcome to sit in on their child's class. If you have questions, our knowledgeable and friendly instructors will be more than happy to talk with you before or after classes or during breaks. We want to be sure that both you and your child feel happy and comfortable at our center.
Please feel free to give us a call or contact us online for more information about our classes for girls and boys. We look forward to hearing from you soon!
Tumbling Class Information
Level: High Schoolers Ages 14+
Tumbling/Round Off Back Handspring
| Tuesday | Wednesday |
| --- | --- |
| 7:15 - 8:15 | 7:15 - 8:15 |
Enroll In Our Tumbling Classes Today
Please give us a call or contact us online to learn more about our classes. We will be happy to answer any questions you may have! Parents are always more than welcome to come sit in on their child's gymnastics class so they can get a good idea of the skills we are teaching during each session. Instructors will be able to answer questions before/after each course, and during breaks.