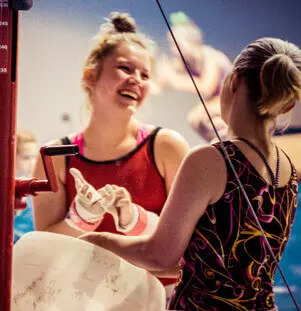 Lucas Gymnastics offers open gym service in surrounding areas of Cleburne, TX for boys and girls of every age range looking to have more free time in a gymnastics environment. With our open gym, your son or daughter will have the chance to practice their exercises and routines in a safe environment with instructors on hand who will be able to monitor the movements of children to make sure they aren't doing anything which could cause them to get injured or hurt another person.
What's Available in the Open Gym for Gymnastics?
We get a lot of phone calls from parents who want to know,"What's available in the open gym for gymnastics?" For a small fee, your son or daughter will have the opportunity to practice:
Our open gym sessions fill up quickly, so make sure that you show up early so that you get space! Your child will be able to bring a friend or two, as well. We believe in providing a fun, learning environment where kids can be kids! All ages are welcome at our gym.
Please feel free to give us a call or contact us online for more information about our open gym. We offer the gym at a small fee for boys and girls of all ages who want to try out some of their exercises and routines, and for families who just want to see what the world of gymnastics is really like!
Age Policy: All children which are attending our open gyms must be 7 years of age or older.